Get a Bird's Eye View of Your Content
Your content attracts your target audience. It's important that it stands out in your industry.
So how is your existing content performing for you?
Many marketers struggle to answer this. They may have a vague idea of what their content assets are, but it's hard for them to be certain about how effective their existing content is in driving success for their brand.
This is where a content audit is incredibly beneficial.
As you conduct an audit, you gain valuable insights into what's working, what's not working, what gaps exist, and what opportunities you need to prioritize.
In This Content Audit Template, You're Able to:
Pull a report showing all your content, including blog posts, webpages, and case studies.
Organize your assets by content type, page type, and campaign.
Attribute KPIs to each asset and sort content based on your immediate goals.
Establish what actions you need to take on each piece of content.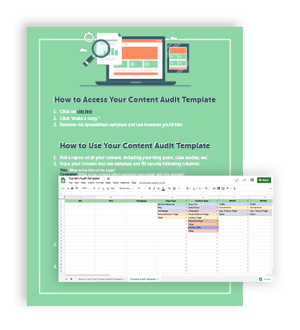 Grab Your Audit Template!