Overcoming the 5 Biggest Email Marketing Challenges
Do you know the true ROI of your business's email marketing efforts? If your email campaigns aren't taking off the way you'd planned, you're probably dealing with 1 of 5 major problems marketers have been dealing with for years.
Poor open rates, minimal conversions and low quality content have plagued email marketing since the first day email became a marketing channel. As email is essential to inbound marketing, businesses ultimately have to deal with these challenges one way or another.
To help you overcome the most common obstacles in email marketing, we've compiled this new guide, which outlines the 5 biggest problems marketers face with email marketing and immediately actionable ways to beat them.
Want Better Email Metrics? This Guide Will Help You Learn:
How to increase your email open rates with routine email list adjustments and refined messaging

Best practices for boosting email click-through rates with action words and stronger CTAs
How to encourage blog readers to subscribe to your email updates and

keep them from unsubscribing
Key Performance Indicators to determine your actual email marketing ROI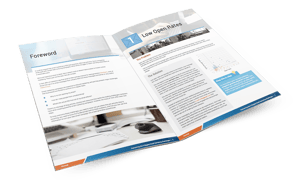 Overcome Email Challenges and Start Seeing Positive Email ROI