Assess Your Website Performance
Your site performance impacts many aspects of your business, most notably SEO and the user experience.
Can you afford to be outranked by your competitors or suffer from high bounce rates?
To make the most of your site and hit your business goals, you need to ensure all pieces are working in your favor. Keep your finger on the pulse of your site by conducting audits regularly.
This is where the Website Audit Worksheet can help you. The worksheet covers marketing, usability, design, and everything in between.
Use the Website Audit Worksheet to do the following:
Add a grade for every aspect of your site, such as your blog content, security, and conversion paths.
Assign priority levels to each initiative so you can focus on the most important pieces first.
Include detailed notes on what to improve in each area.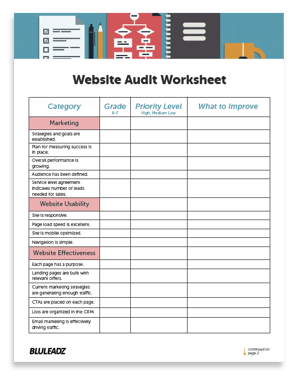 Download Your Website Audit Worksheet